Gourmet Black Tellicherry Peppercorns-12 OZ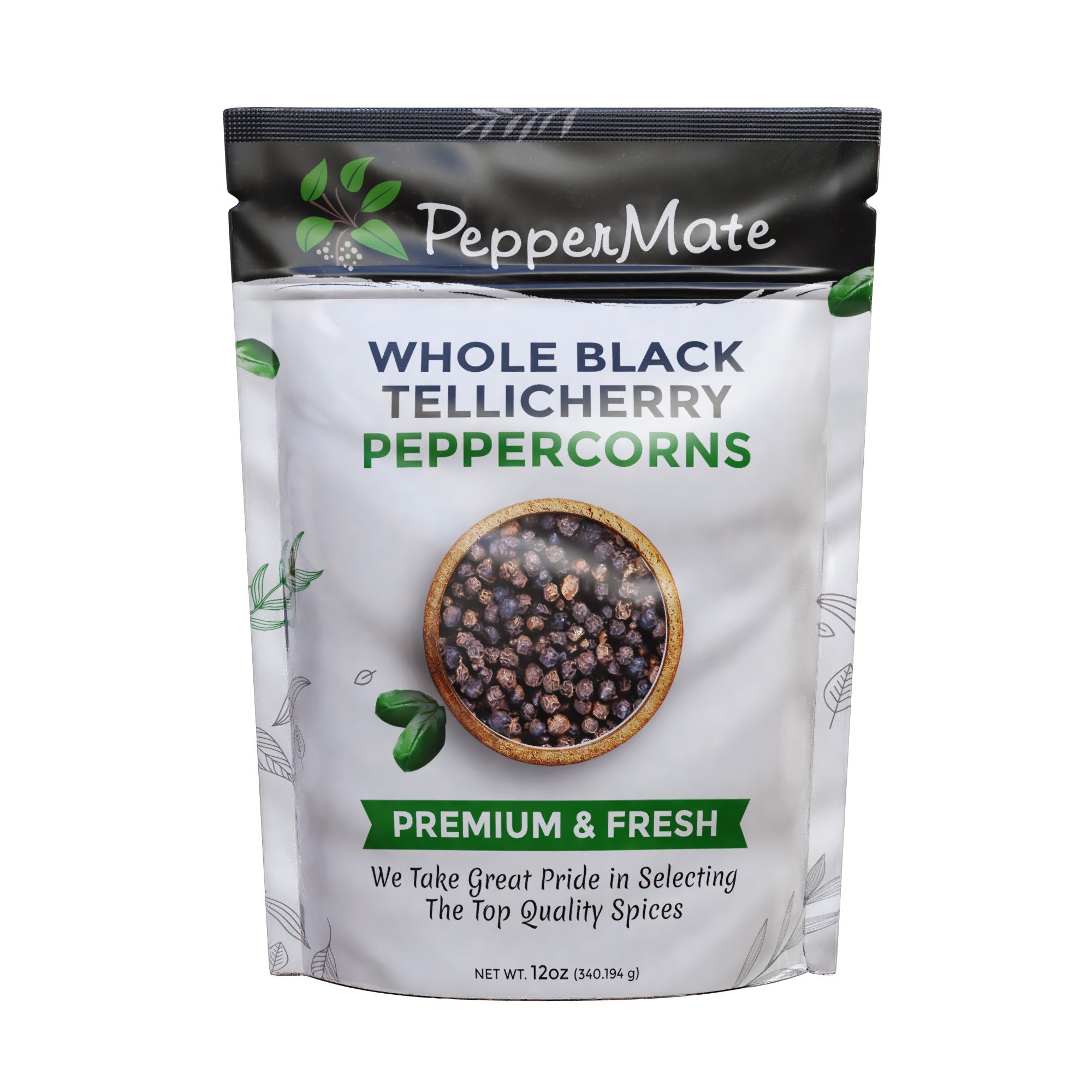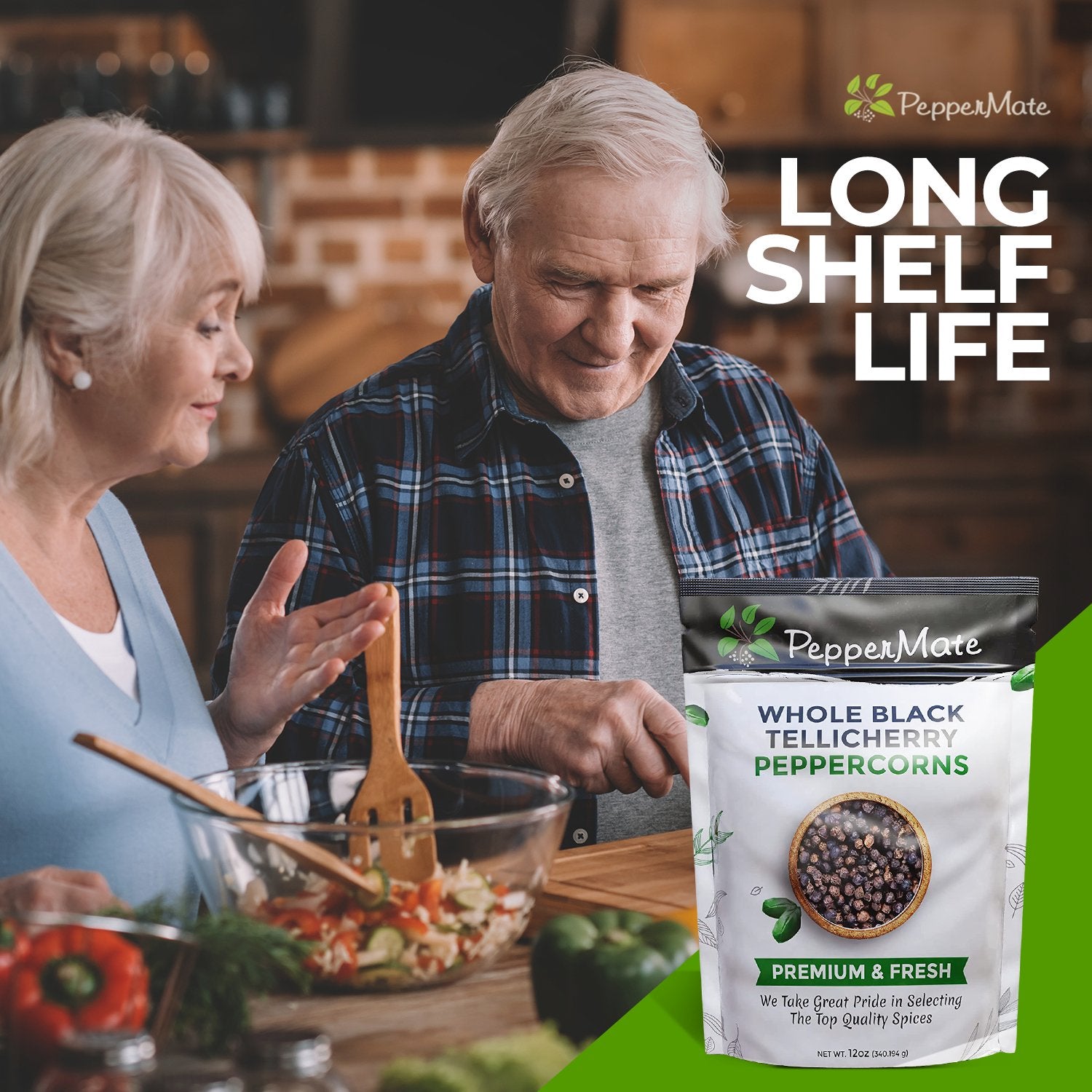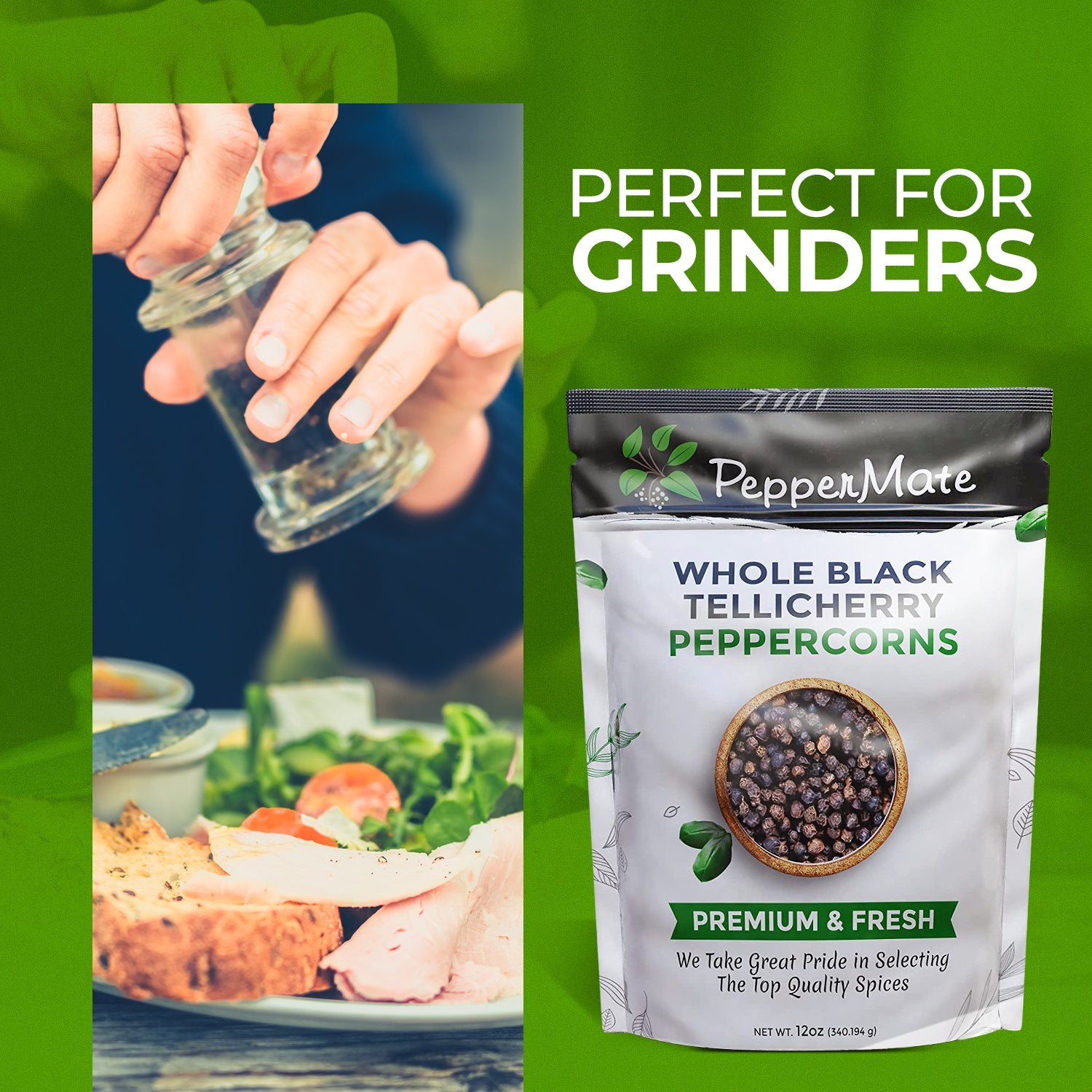 Tellicherry Peppercorns, also known as Thalassery, is a city on the Malabar Coast of Kerala in southern India. Since the time of the Romans, the pepper from the coast of India has been dearly sought. In the 1600's the British built a seaport in Tellicherry through which pepper was exported. Tellicherry pepper berries are picked later than most resulting in larger berries richer in flavor. They have a pungent aroma and sharp robust taste.
Brought directly from the city of Tellicherry.
Fresh, Balanced and Delicious.
Works Great with our Pepper Mills.
They are considered some of the finest peppercorns in the world and taste testers agree that it is one of the few names people can associate with peppercorns. The sweet balanced flavor and complex aroma allow this peppercorn to stand on its own. It is a great peppercorn to use in conjunction with our PepperMate Mills and most of our mills will include a 4 oz. bag of Tellicherry Peppercorns.
Tellicherry Peppercorns are usually left on the vine longer. By doing this they develop a unique full flavor you are sure to enjoy. 
The Daily Grind - Our Humble Beginnings
We've been grinding since 1982! A time when graffiti adorned the subways and crime was high. BUT an appreciation for gourmet cooking was slowly seeping into the old-fashioned kitchens of New York. Indeed on June 25th 1982 The New York Times ran a story about Pepper Grinders. It was written by the famous French Chef Pierre Franey. The entire article was dedicated to our world famous PepperMate Traditional Pepper Mill. It was a revolution in home cooking and even the experts agreed. "A new pepper mill has just been introduced on the market and it is one of the best I've come across. Called PepperMate, it is a sleek and beautifully designed model about six inches high, attractive and easy to operate." - Pierre Franey NYT 1982. Since then, we have moved with the times and elaborated on the utility, style and usefulness of our product lines. We like to claim that we gave the daily grind a whole NEW meaning! Relish the Grind & Savor that Flavor! Everything About Freshly Ground Pepper Just Pops Pre-ground pepper is about as fresh as the 50-year-old dried flowers on your grandmother's dresser. Instead, add a zing to your food by grinding fresh peppercorns. Close your eyes, and that grinding sounds like crackling logs on an open fire. While the dark, spicy flavor warms you up like a whisky on a cold winter night. So cozy and so satisfying - pre-ground doesn't even compare. Invisible to the naked eye… Although you can't see it, you'll definitely smell it. Your daily pepper grind exposes volatile oils and a spectrum of flavors into the air, taking you straight to food heaven. But, Peppermate is about MORE than helping you cook gourmet meals at home. We believe delicious meal times can become your warmest memories and cooking at home builds lasting culinary connections. Passing down recipes punctuated with flavor will create an unbreakable bond for generations to come. Science shows that smells have the power to trigger intense emotions of love, nostalgia, and comfort. They can even send our minds reeling back to memories that were long-forgotten. This intoxicating effect begins with aromatic spices and seasoning that remind you of home! It is time to create your legacy with signature dishes that will last long after the plates are cleared.
Gourmet Black Tellicherry Peppercorns-12 OZ
Not my first purchase of this ptoduct
Your brand seems hood & will prbly reorder if living in future! 84 yrs okd
Trendy pepper corns.
Tellicherry peppercorns are the larger berries of the black pepper plant. After drying and shriveling, the smaller corns are labeled "black peppercorns", and the larger are known as tellicherry.
I don't really see a huge difference in flavor between the two; but I can get a corser grind in my trusty PEPPERMATE than with the regular sized black peppercorns.
Have owned a Peppermate since the 70s. A must in my kitchen.